Place your wheelchair or mobility scooter inside your vehicle.
The Carolift 100 is designed to be simple to use, but powerful enough to put any wheelchair, scooter or other mobility device weighing up to 100 kg into the back of your car. Operation is controlled by 4 simple buttons and takes an average of one minute.
Motorized and fast operation
Through manual control, the Carolift 100 lift does all the work for you. It lifts and places the support product in the boot of your car. Placing or picking up your mobility device is done in about one minute, at a smooth and steady pace, always under your full control.
Easy to use
The design of the Carolift 100 has been developed to allow a simplified operation. Open the boot, lower the lift arm, attach the lift straps and lift your product without any physical effort.
Incredible control
It is a four-way lift, so the Carolift 100 can move up, down, in and out with precise and direct control. The 4-button control is very easy to use. You can also control the Carolift 100 with your smartphone via the Remote app. This requires the installation of your Carolift 100 with the BraunAbility remote receiver kit.
Lifting Capacity up to 100 kg
Enables a lifting of any product with a weight up to 100 kg.
Full Seating Capacity
Since the Carolift 100 is installed in the luggage compartment, you don't have to sacrifice any seating inside the car.
Universal fit
The Carolift 100 is suitable for use with most car brands and models and it is only necessary to check that your product fits inside the car.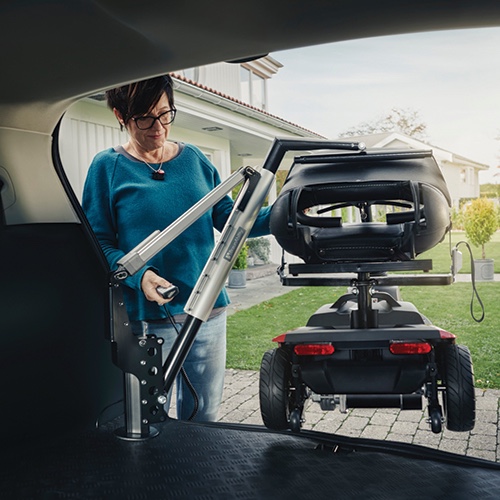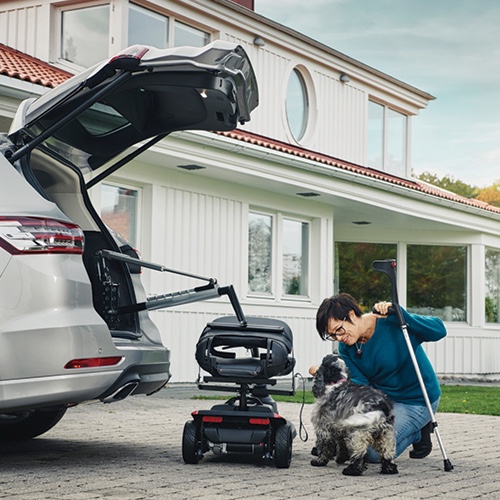 Small dimensions
Another feature of the Carolift 100 is its compact dimensions. If you need to use the luggage compartment to transport other things, you can simply fold the arm of the hoist close to the sides of the boot. If you still need more space, you can easily and safely remove the arm from the Carolift 100.
Future portability
If you change your car, just take the Carolift 100 out of the old car and install it in the new car (after checking for compatibility). You can still change your support product and, with very few exceptions, you can still use your Carolift 100 crane.
Few modifications required
In most cases, installing a Carolift 100 requires very few permanent modifications to your vehicle. In other words, its resale value stays in line with its market value.